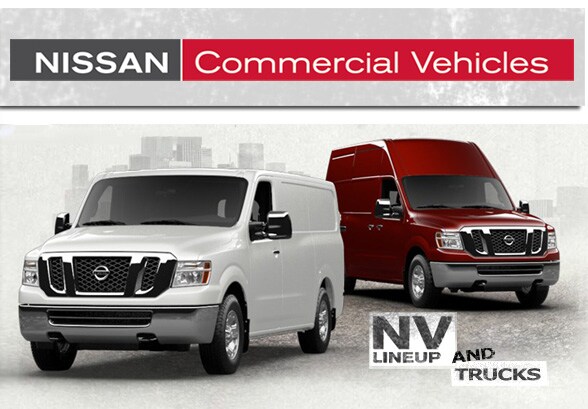 Your office on wheels is also your billboard on wheels. The exceptionalNV exterior turns heads while you're turning corners.

Roof Height Options

The NV lineup offers two roof options: standard and high, which provides more than 6'2 of interior headroom. Need more cargo room and advertising space? Then the high roof is the way to go. Need your vehicle to be a little smaller and fit through low openings such as garages and drive-thrus? Choose the standard option. Whatever your need, NV roof options have you covered.

On the side

The NV lineup comes with a sliding side door standard, with or without glass. Yet another way to load your cargo with ease.

Rear doors of the NV lineup open 243 degrees allowing for optimal, forklift-friendly loading in tight places. Specially designed magnets on the doors and sidewalls ensure secure holds, preventing the wind from slamming open doors shut.

The Perfect Upfit

You've got your stuff. We've got your space. Squared-off walls make sure shelves and drawers fit tight to maximize your walk-through storage area. NV offers multiple integrated reinforced mounting points for shelving that eliminates the need for drilling into sheet metal.

Helpful Hauler

Nissan has designed the NV lineup to fit your big stuff. Standard roof offers 220+ cubic feet of cargo space, while the high roof boasts more than 300 cubic feet of cargo space. With more than 52 between wheel wells and its long cargo space, you can easily load ten-foot piping, two 40X48 pallets or 4'X8' dry wall sheets flat - no problem. Not to be missed, triple lighting is also available for the cargo area.

You spend hours on the road and on-site. You need your mobile office to keep things organized. The versatile NV center console and surrounding compartments do just that, providing ample, fitted space for hanging folders, clipboards and more. Secure the sliding console lid and create a flat surface ideal for a laptop. Best of all, it's removable if you ever need a little extra space.

* NOTE: Center console not available on 1500 as standard equipment.

Passenger Seat / Workspace

Sometimes you need even more workspace for your office on four wheels. The NV lineup passenger seat folds down to provide an expanded desktop-like surface - perfect for your computer, blueprints and paperwork.

Wired for Work

Technology has changed the way we work and drive. You need tools that give you an edge and maximize your time. That's why Nissan offers an available Bluetooth® Hands-free Phone System and available touchscreen navigation. The NV lineup also helps you keep your devices charged with a 12V car outlet in the cabin and an available 110V outlet in the center console and cargo area.

Intelligent Storage

The versatile NV lineup features pull-out storage trays under both seats, overhead compartments (standard on all high-roof models), places for your pencils and business cards, multiple cup holders, and a convenient seat pouch for your cell phone. Have any more stuff? This commercial vehicle has a place for it.

Being in the driver's seat is always a good thing, unless it's of poor quality. NV lineup seats come with a durable protective wear patch on the outer edge so you can forget about duct taping holes from wear and tear. Liquid-resistant material on seating surfaces make for easy clean up. We didn't forget comfort: your seat is designed to fit, fending off fatigue for those long drives. This is a commercial vehicle designed to match the same comfort you'd expect in your own personal vehicle.

Headroom, Leg & Elbow Too

With its truck-like design, the NV lineup avoids cabin engine intrusion, giving you more legroom on the inside. We know space is key. That's why we designed the NV roof and windows to maximize room and help improve outward visibility. An intelligent layout, light-duty truck feel and ergonomic design means better comfort for you and your passenger.

Easier to get in and out

You get in and out of your commercial vehicle dozens of times a day. A low step-in at the driver, passenger, side and rear doors and handles on the A-pillar makes ingress and egress that much easier.

Nissan NV lineup commercial vehicles are engineered with a full-length, fully boxed frame for added strength and durability.

Serious Engines

Nissan brings its trusted and distinguished engines to the North American NV lineup in both 5.6L V8 and 4.0L V6 options. Powerful. Reliable. That's Nissan quality you can trust.

Heavyweight Brakes

The NV lineup comes with brakes that offer more than enough stopping power for big cargo loads and towing. These are heavy-duty discs, not off-the-shelf. That means a more confident, powerful braking performance.