Nissan LEAF Wins 2011 World Car of the Year!

NEW YORK, N.Y. (April 20, 2011) Today, at the New York International Auto Show, the 100-percent electric, zero-emission Nissan LEAF was named 2011 World Car of the Year, edging out the BMW 5-Series and the Audi A8 for the top spot. Today's award is the latest in a string of accolades for the world's first affordable mass-market, all-electric vehicle for the global market, which was also named European Car of the Year.
"It is a great joy that the world's first, mass-marketed electric vehicle, the Nissan LEAF, has won the prestigious award of 2011 World Car of the Year," said Nissan Chairman and CEO Carlos Ghosn. "This accolade recognizes Nissan LEAF, a pioneer in zero-emission mobility, as comparable in its driving performance, quietness and superb handling to gas-powered cars. And it validates Nissan's clear vision and the values of sustainable mobility that we want to offer to customers around the world."
The World Car Awards jurors observed that, "The Leaf is the gateway to a brave new electric world from Nissan. This 5-seater, 5-door hatchback is the world's first, purpose-built, mass-produced electric car. It has a range of over 100 miles on a full charge claims Nissan, takes around 8 hours to recharge using 220-240V power supply and produces zero tailpipe emissions. Its low center of gravity produced sharp turn-in with almost no body roll and no understeer. The good news? It feels just like a normal car, only quieter."
The World Car of the Year competition was launched in 2004, with winners chosen by a panel of automotive journalists from Asia, Europe and North America.
Nissan LEAF is available in Japan, the United States and select European markets and will be released in other global markets in 2012. The vehicle is currently built at Nissan's Oppama, Japan plant. It also will be manufactured at the company's Smyrna, Tenn., plant in the United States in late 2012 and at Nissan's Sunderland plant in the United Kingdom by early 2013.
Aiming to be the world leader in zero-emission vehicles, Nissan, with its Alliance partner, Renault, has formed partnerships with more than 90 governments, cities and other organizations around the world not only to develop and produce EV and lithium-ion batteries but also to promote sustainable mobility. Nissan is also taking a comprehensive approach to encourage to the world to more sustainable mobility such as improvement of charging service, infrastructure deployment, the promotion of the use of recycled materials and overall energy management system including second-life use of lithium-ion batteries.


The
Totally Electric, Zero Emissions Nissan Leaf
Reserve yours TODAY!


The New York Times:

First Buyers of Nissan Leaf Get a Trunkful of Perks
"Tax credits, rebate checks, personalized home visits, government giveaways -- even customer service calls from top corporate executives.

The first all-electric car from a major auto company, the Nissan Leaf, arrives at dealerships in December, but thousands of Americans are already learning that going electric can come with perks like no other car purchase.

"It just keeps getting better and better," said Justin McNaughton, among the 20,000 people who have reserved a Leaf. "My wife thinks it's funny because at the end of the day, we're just buying a car."

Since Mr. McNaughton, a lawyer in Nashville, paid his $99 deposit, he has been bombarded with government incentives -- promises of a $7,500 federal tax credit, a $2,500 cash rebate from the state of Tennessee, and a $3,000 home-charging unit courtesy of the Energy Department.

When he had questions about the Leaf, the answers came in a 40-minute telephone call from a senior manager in Nissan's corporate planning department.

"You kind of feel like you're one of the chosen people," Mr. McNaughton said.

Precisely. It is all part of an unprecedented effort by federal, state and local governments to stimulate demand for cars that have zero tailpipe emissions -- and Nissan's pre-emptive bid to corner the all-electric market much the way that Toyota dominated the early hybrid market with the Prius.

The government subsidies are shaving thousands of dollars off the Leaf's $32,780 sticker price, while other benefits are piling up, like free parking in some cities and the use of express lanes on highways usually reserved for cars with multiple passengers.

In Tennessee, where a Leaf assembly plant is being built, Leaf drivers will be able to charge their vehicles free at public charging stations on 425 miles of freeways that connect Nashville, Knoxville and Chattanooga.

"It's almost shocking how many subsidies are available on the Leaf," said Jeremy P. Anwyl, chief executive of the auto research Web site Edmunds.com. "We are putting a lot of money behind this technology."

Nissan expects the typical Leaf buyer to fit a highly desirable demographic: affluent, college-educated consumers in their mid-40s who are both environmentally sensitive and willing to take a chance that electric technology will be as safe and reliable as internal combustion engines."


Nissan Leaf is Nissan's first zero emissions car, not to be confused with a hybrid or any other type of gas-powered, eco-friendly vehicle. The Nissan Leaf is 100% electric. That means is burns zero gas and produces zero emissions. Nissan Leaf performs like a V6 powered vehicle with room for five adults. Plus it comes with all the quality, reliability and versatility you've come to expect from Nissan.
EV-IT Support

Function

Nissan has developed an sophisticated IT system for its zero-emission EVs, connecting the vehicle on-board transmitting unit to a global data center*2 to support EV driving 24 hours 7 days a week.


The dedicated EV platform is comprised of a highly rigid body, high-performance motor, compact lithium-ion battery with high power output and energy capacity, delivering outstanding driving performance and safety, while offering a quiet and peaceful driving experience; a unique feature of a fully-electric drivetrain.

The in-house developed electric motor delivers 80kW/280Nm for high response and powerful acceleration. Nissan's unique motor control also contributes to the vehicle's seamless acceleration. The 24kWh laminated compact lithium-ion battery pack is placed under the vehicle floor for more efficient packaging, without compromising cabin or cargo space. The battery layout also allows smooth underfloor air-flow which helps reduce drag. Additionally, the regenerative brake system employed to recharge the battery during deceleration and braking extends the driving range to more than 160km*1 under a full charge.High durability is achieved by employing an additional frame for the battery pack to significantly improve the rigidity of the platform. The combination of a high rigidity platform and electric power-train minimizes vibration and external sounds to produce a quiet and pleasing drive.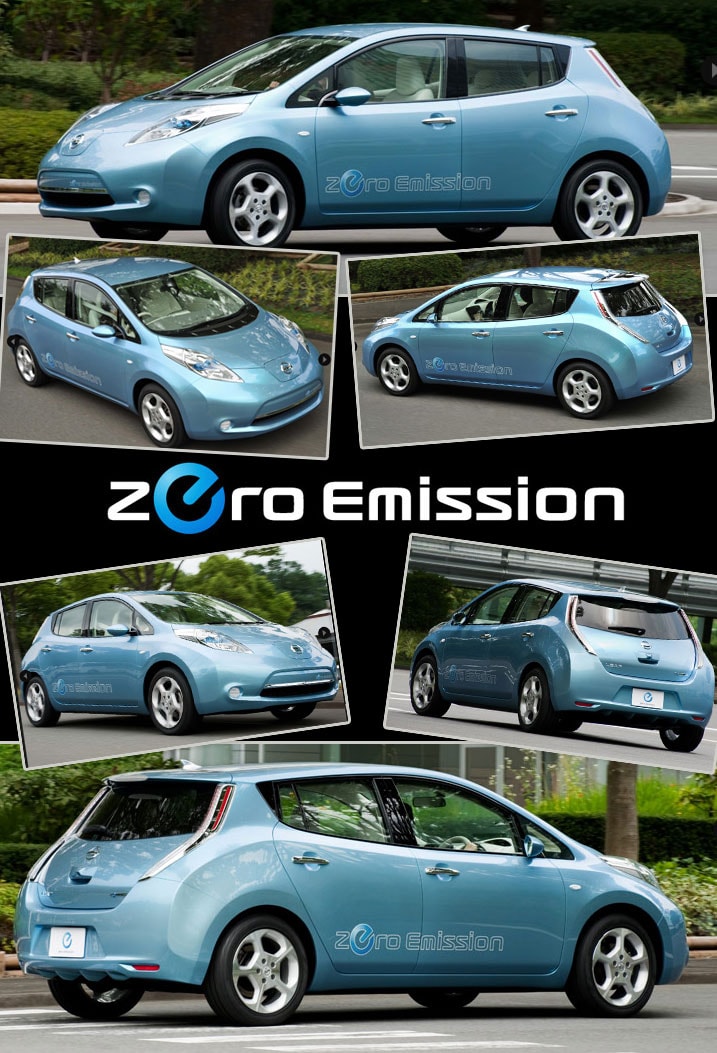 TIME Magazine Names Nissan LEAF Among
The 50 Best Inventions of 2009
TIME Magazine named the Nissan LEAF as one of "The 50 Best Inventions of 2009."
According to the article:
"It's not the world's first electric car, but the Nissan Leaf, launched in August, is the first fully electric vehicle built for mass production for the global market. To help drivers shift their thinking from gas to green, Japan's third largest automaker has about 30 partnerships worldwide focused on developing an infrastructure of battery-recharging stations to keep electric vehicles on the roads. The car's top speed is more than 90 m.p.h. (145 km/h), and its range is 100 miles (160 km) on a full charge. When it moves, it makes a futuristic sound like the flying cars in Blade Runner. Nissan will produce 50,000 Leafs each year at its Oppama plant, southwest of Tokyo, starting in the fall of 2010."
Other vehicles named on the list include the World's Fastest (Steam-Powered) Car and the Edible Race Car.
No press release will be issued. Please click here to view TIME's full list of inventions and to "rate" the Nissan LEAF. TIME's online poll results currently show LEAF ranked #10 on the "50 Best" Inventions" list, with an average rating of 75 through more than 8,000 cast votes.